Sugden IA4 Class A Amp (used)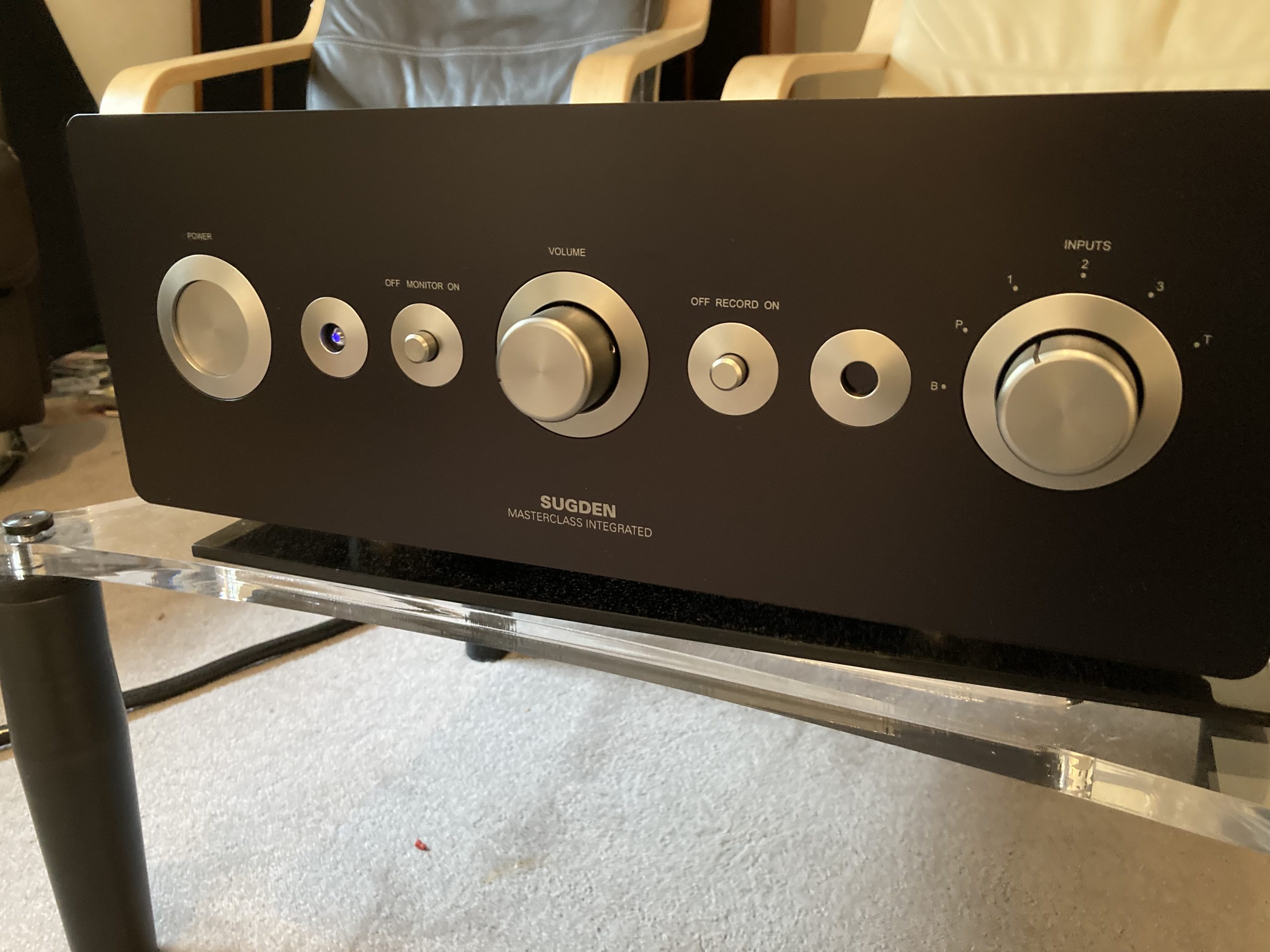 Less than 1 year old and in immaculate condition
The IA-4 is our Sugden's flagshipand most popular integrated amplifier.  Weighing a substantial 20 kilos the IA-4 has a purposeful look and impressive build quality. Plenty of input and output facilities are on offer including a high quality phono stage. The class A power output circuit has been upgraded from the A21 series with a larger power supply and improved soothing and output capacitors. Gold plated circuit boards, full relay switching and a precision input selector switch offer further detailing. The pre-amplifier section of the IA-4 is a bespoke design, with surprising clarity and detail.  The most noticeable feature is the ability to create a large performance with depth and height on any type of music.
Facilities
Inputs ​                                  Three line level, tape, MM phono, balanced
Outputs                                Variable pre-out, fixed out, loudspeaker out
Volume Control                    Remote control RC5 compatible
Tape                                     Monitor and record off
​
​Specifications
Line Input sensitivity            125mV
Phono Input Sensitivity        2mV (MM)
Power Output                       33 Watts per channel
Frequency Response           +/-1dB 14Hz-200kHz
Bandwidth                            6Hz-300kHz
Signal to Noise                     >84dB
Gross Weight  (packed)        20kgs
Dimensions                         165 x 430 x 440mm (hwd)
New price £5,500 Sale price £3,999
Audio Research PH8 Valve Phono Pre-amp (used)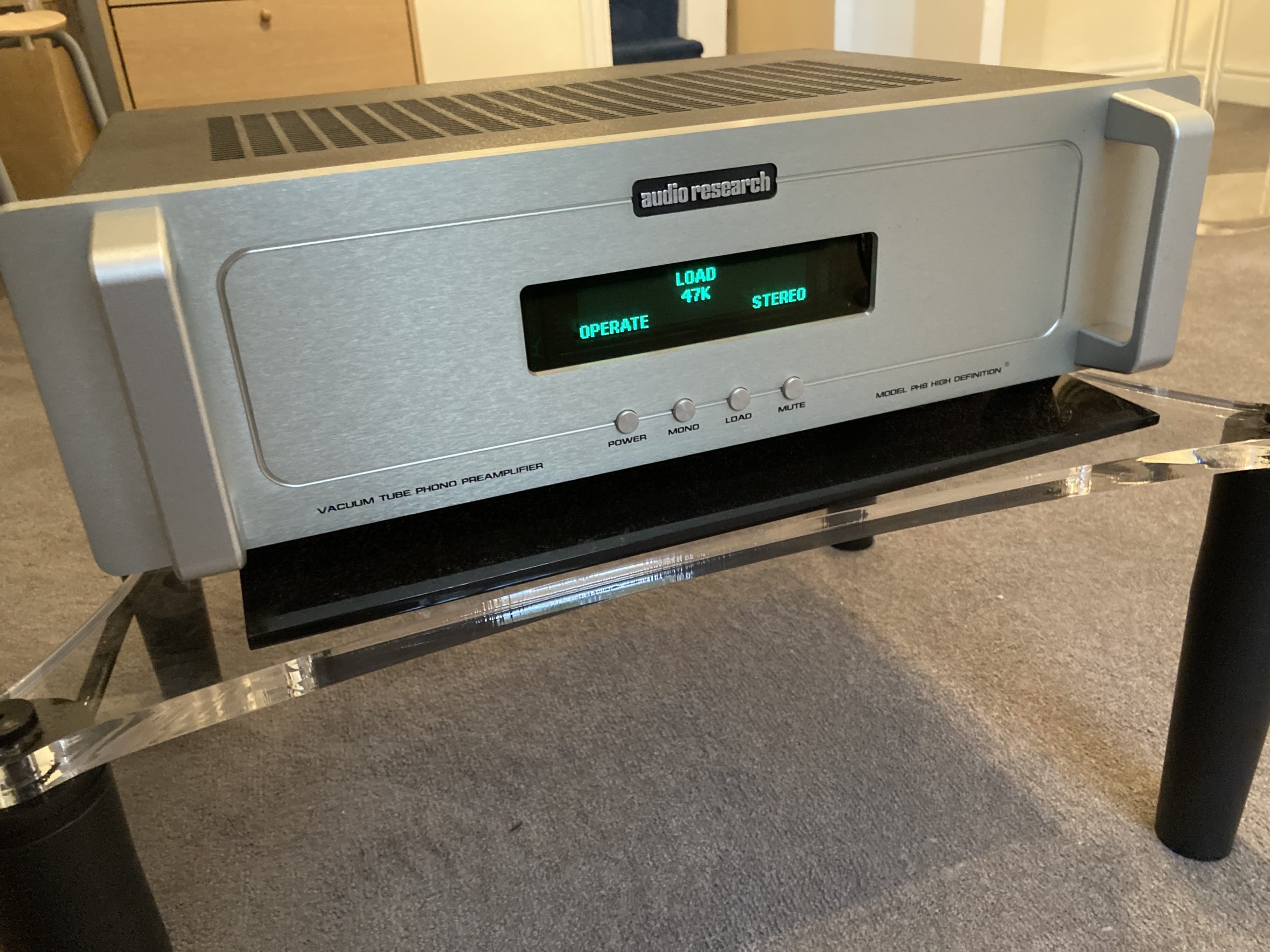 Approximately 4 years old and in immaculate condition.
With the award-winning Reference Phono 2 reigning at the top, and the superb PH6 anchoring our lineup with a more affordable price, we are pleased to introduce the PH8 phono preamplifier.
"The PH8 benefits from a number of circuit and parts improvements derived from the award-winning REF Phono 2. Rather than using the four 6922s of its predecessor, the PH8 uses two 6H30 tubes along with special low-noise FETs; vacuum tube regulation incorporates a 6550 and a 6H30, as featured in the REF Phono 2 and REF5. Capacitors are all the same types as those used in the REF Phono 2, including the same coupling caps, and Teflon® caps used in both the RIAA stage and as bypass caps. There is also a new R-core transformer. Circuit board material is the same as in our Reference products.
Bandwidth is extraordinary, with -3dB points below 0.3dB and above 400kHz. Distortion is vanishingly low, and gain is a very healthy 58 dB, allowing the PH8 to be used with low output moving coil cartridges and an appropriate line stage.
The PH8 incorporates the same cosmetic changes seen on our other recent products, with silver handles and small aluminum buttons under the display; black front panels and black handles are also available. On the rear panel there is one set of single-ended inputs and one set of single-ended outputs, a ground post, plus a removable 15A IEC cord.
Operationally, the PH8 maintains the flexibility and ease of operation of its predecessor, with Power, Loading (47K, 1K, 500, 200, 100 ohms), Stereo/Mono, and Mute buttons under a vacuum-fluorescent display that has eight selectable brightness levels. The display can also be turned off, with nine small pixels remaining dimly lit to remind one that the PH8 is still powered-up. These controls, plus a tube hour meter, are accessible via the supplied remote control, so changes can be made from the comfort of your favorite chair.
The PH8 offers startling performance in every meaningful musical way. Attributes include remarkable air, transparency, speed, focus, retrieval of low level detail, micro dynamics, and great tonal purity. Musically this translates into an organic rightness that is incredibly involving, allowing the intent and art of the performance and performers to shine through. For all of those music lovers who fervently desire the performance of the REF Phono 2 but simply cannot stretch to that exalted level, the PH8 is the answer to their dreams. They maintain a very similar perspective and are cut from the same sonic cloth.
If you appreciate analog then you will fall in love with the PH8; at its price it elevates LP playback to a new level of performance and musical involvement that must be heard to be appreciated."
New price was £6,250 Sale price £2,750
Belles 350A V2 Reference (Used)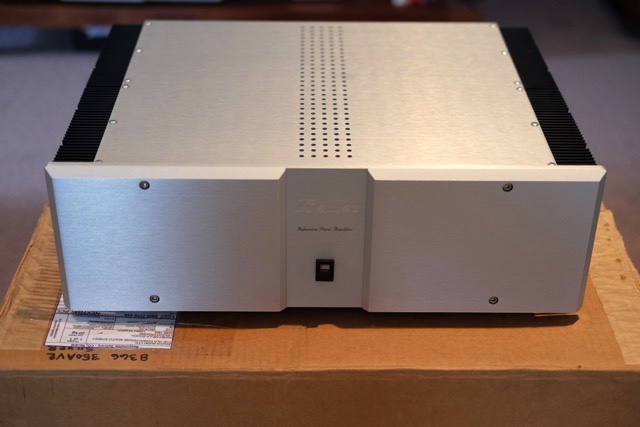 In beautiful condition, boxed.
The Belles 350A V2 Reference power amplifier is a combination that seldom finds itself so beautifully balanced. It is one thing to engineer a product to serve a purpose reliably. It is another to design a piece of audio equipment to perform so beautifully that it stirs the soul. The Belles 350A V2 Reference power amplifier is one of those rare instances where art and science combine to create a soul stirring marvel of musical enjoyment.
With the runaway success of the Version 2 of the 150 reference, Dave Belles set about working his magic on the legendary 350. Using the Belles principles of 'Music first'. The new V2 model takes the 350A to a new level of sophistication, power, delicacy and musicality. Greater insight with improved presence, texture and spatial awareness infuse the music with a sense of realism and listen ability you only find in far more exotic and costly brands.
Now sporting a smaller presence (using the same casework as the new 150 V2) the new 350 V2 uses the new Black Ravioli OEM equipment feet as standard. Making for one serious powerhouse in a very manageable package.
In this mode the amp can deliver 1 kilowatt into 8 ohms. The amplifier can be operated as a stereo amp with RCA jacks only for inputs. In this mode the Belles 350A V2 Reference delivers 250 watts per channel into 8 ohms.
Power: 250 watts per channel at 8 ohms
Power: 500 watts per channel at 4 ohms
Power: 1000 watts per channel at 8 ohms (monoblock setting)
Distortion: THD and IM less than 0.1% rated power
Damping Factor: over 2000
Peak Current: over 64 amperes
Input Sensitivity: 1.98V of rated power
Input Impedance: 50Khz
Hum and Noise: over 100 dB A weighted
Frequency Response: 0.2Hz – 100Khz
Dimensions: 432mm W x 133mm H x 330mm D
Weight: 20Kg
Sale price £2,100
dCS Paganini CD / SACD Transport (used)
This Paganini is in the silver finish, and is in beautiful condition. Paganini Transport is built to the highest specification and features a sleek, solid aluminium fascia, thick aluminium casing, metal buttons and a smooth transport mechanism. Its TEAC Esoteric™ UMK5 drive is robustly constructed and features a metal tray built specially for dCS. All signal processing and electronics in the Transport are designed and developed in-house by dCS.

Paganini Transport upsamples CD data to DSD, transmitting DSD data over the IEEE1394 and Dual AES interface. SACDs are played in their native format and also transmitted over IEEE1394 and Dual AES. Native CD data is available from 4 PCM outputs (2x AES3 and 2x S/PDIF), as is downsampled SACD data.

Paganini Transport is intended to be used with the matching Paganini DAC or any suitable industry-standard DAC. The unit may be run in Master mode or by using the DAC as the system clock. Performance is further enhanced by adding the Paganini Clock to the system.

Original price £9,000  , Sold

Antelope Zodiac Platinum DAC / Voltikus (used)
The Zodiac Platinum DSD DAC supports up to DSD128 (Double-DSD) and 384kHz, 24-bit streaming to a custom-designed, ultra-low jitter USB connection, as well as AES/EBU, S/PDIF, and TOSLINK PCM support.

The DSD features include a unique 256X up-sampling mode where DSD64 and DSD128 are
up-sampled to DSD256, thereby releasing the true potential of DSD – delivering new standards in accuracy, transparency, imaging, and dynamics.

The unit compliments the high-resolution PCM inputs with switchable 64-bit precision 8x linear phase upsampling using a dedicated FPGA and Independent dual DACs per channel to eliminate crosstalk and improve dynamic range and linearity.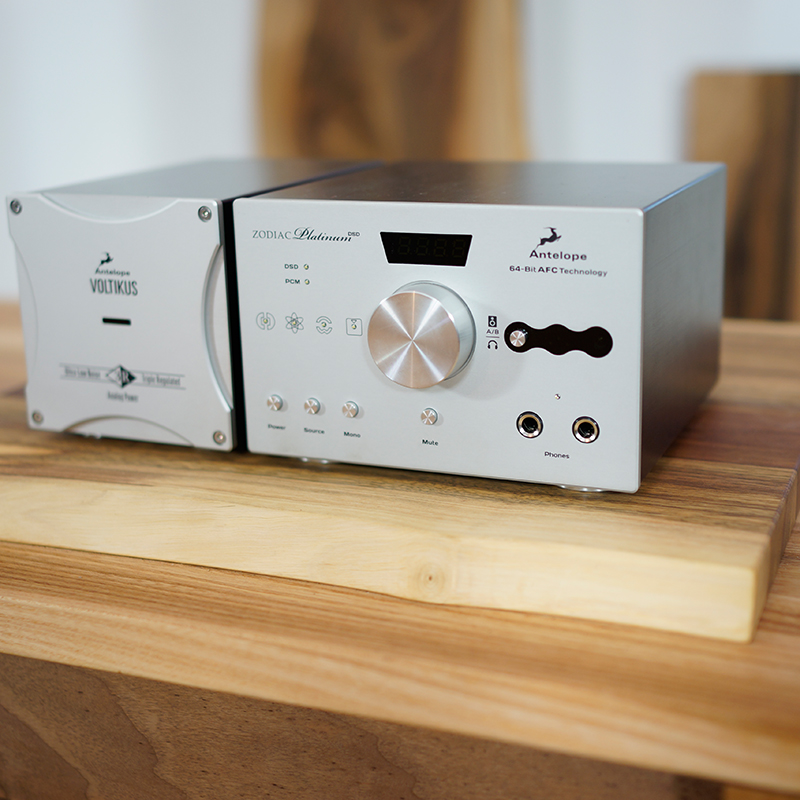 Original price £5,000  , Sold
Spectral DMC-30SS / 2 Reference Pre-amplifier (used)
This unit was sold as a 30SS, subsequently upgraded by Spectral to 30SS/2 specification. This unit is complete, in very good condition with rermote, box and paperwork showing upgrade.
Spectral Audio is a company which was founded on research in high-end preamplifier design and our depth of commitment to the importance of this work runs deep. For this reason, engineering priority has always been placed on development of the most advanced reference preamplifiers possible. The DMC-30 series has occupied a special place among Spectral reference preamps, moving the state-of-the-art steadily forward with a constant evolution of performance innovation and refinement. Now Spectral introduces a new reference preamplifier for the most demanding musical application, the DMC-30SS Studio Standard. The DMC-30SS Studio Standard combines new technology advances from state-of-the-art recording with extreme precision componentry and micro-detailed layout to again redefine the art of preamplifier design.
In previous DMC-30 generations, emphasis on active amplifier development has resulted in major advances in line section refinement, culminating in the unparalleled performance of the SHHA high-speed output modules. Due to the over-capacity and robust design of the original DMC-30, this unstressed platform has required very little improvement to support ever evolving performance in this area. In the DMC-30SS, Spectral engineers return to basic issues of foundation infrastructure with a new 'clear sheet' design. The result is a fresh interpretation of the elegant DMC-30 topology implemented with the most uncompromising new power supplies, circuit layout and control elements ever used in an audio preamp.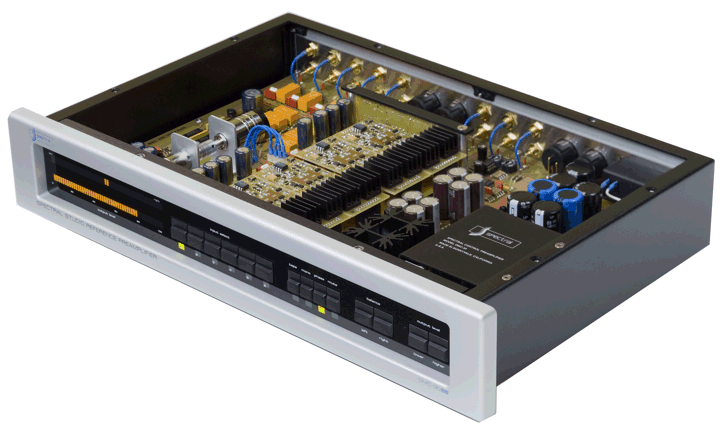 Original price £13,000  , Sold
Audiomica Cainit Dual AES / EBU Cables for dCS (ex Demonstration)
dCS Vivaldi / Scarlatti / Paganini players now support advanced dual AES connection. This results in seriously better sound quality. This pair of cables from Audiomica produce stunning sound quality when used in a dual AES role. For single AES applications, contact us about other cable options.
Current price £870 sale price £499 – save an additional 10%