Accuphase C-37 Phono Preamp (used)
The C-37 is the predecessor to the new C-47 phono stage. The C-37 is a no-compromise standalone phono equalizer amplifier incorporating latest circuit design and utilizing materials and parts with optimal sonic qualities, making it capable of exploring the possibilities of the analog disc to the fullest. The phono amplifier must accurately handle the minute signal while keeping distortion and noise to an absolute minimum. In the C-37, these goals are achieved by employing completely separate MC head amplifier and equalizer sections, and keeping the left and right channels also separate. This enables the C-37 to fully bring out the characteristics and sonic qualities of any phono cartridge, allowing the listener to explore the legendary musical depth of analog discs. Dual mono construction with left/right separate MC head amplifier and equalizer sections
Highly precise equalization: RIAA deviation only ±0.3dB
Versatile load impedance switching options with 6 settings for MC and 3 settings for MM
Gain switching enables high gain of up to 70dB
Three inputs for analog players or tone arms, each with a separate memory for MC/MM, load impedance, gain, subsonic filter and other settings
Two sets of analog outputs for balanced and Line connections
Phase selector for balanced outputs
Price was  £8,750 Sale price £4,000 with 6 month warranty
Accuphase E-800 Class A Integrated Amplifier (used)
Purchased one year ago, new. Comes with two years warranty. This is Accuphase's top integrated amplifier. 50W of pure class A output.
The E-800 is positioned above the E-650 as the new flagship model in the integrated amplifier lineup of Accuphase. The preamplifier section features the impeccable Balanced AAVA type volume control, while the power amplifier section is configured as an instrumentation amplifier using a six-fold parallel push-pull configuration of power MOS-FETs driven in pure Class A. The resulting quality is on a par with high-class separate type amplifiers. Operating as a simple and smart system, the E-800 realizes acoustic excellence that reaches to the very heart of the music.
Integrated amplifier with fully balanced configuration extending from input to output
Balanced AAVA type volume control
Power amplification stage configured as instrumentation amplifier
Six-fold parallel push-pull configuration of power MOS-FETs driven in Class A
Linear power progression of 50 watts into 8 ohms, 100 watts into 4 ohms, and 200 watts into 2 ohms
300 W output into 1-ohm load (music signals)
High damping factor of 1000
Strong power supply with massive high-efficiency toroidal transformer and large filtering capacitors
Protection circuitry using MOS-FET switches
Price was  £15,000 Sale price £9,750
Accuphase DP-430 CD Player / DAC (used)
Less than 4 years old, 30 day warranty.
The Accuphase-developed high-rigidity, high-precision drive optimized for CD reproduction, along with a super-quiet and smooth disc loading mechanism ensure pure signal readout of the highest order. In the processor section, the MDS type D/A converter utilizes four DAC chips driven in parallel, and the filter amplifier features the newly developed ANCC (Accuphase Noise and Distortion Cancelling Circuit). CD transport section and digital processor are kept completely separate. In addition to a USB input, coaxial and optical connectors are provided for digital input and transport output. Quality construction and highly advanced digital technology fully reveal the potential of the CD medium and provide a listening experience that opens up new emotional depths even with familiar music sources.
High-precision CD drive.
High-quality CD tray and ultra quiet and smooth loading mechanism.
MDS D/A converter with four circuits driven in parallel.
Direct Balanced Filter with separate line and balanced signal paths.
Phase selector for balanced outputs.
Digital interface with USB input.
Transport outputs and digital inputs allow insertion of DG-58 into signal path for sound field correction.
Sampling frequency and quantization bit display.
Price was  £4,500 Sale price £2,750
Vertere DG1 no cartridge
Accuphase E-270 Integrated Amplifier (Used)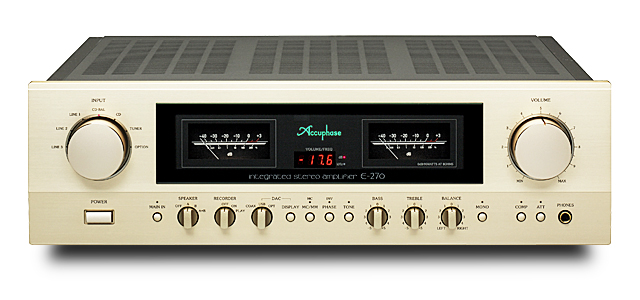 We have another E-270 trade in.
Less than 4 years old, boxed in immaculate condition, with 6 months warranty.
Revolutionary AAVA volume control. A power amplifier section featuring high power transistors in parallel push-pull configuration, complemented by a robust power supply and low impedance output stage. 120 watts of quality power into 4 ohms, with a damping factor of 400. Current feedback amplifier topology assures excellent phase characteristics in the high range, and instrumentation amplifier principle enables fully balanced signal paths. Power MOS-FET switches in the protection circuitry eliminate the need for mechanical contacts.
Pursuit of performance and sound quality results in capability well beyond its class, approaching the level of separate type amplifiers.
Revolutionary AAVA volume control
Output stage with high-power transistors in parallelpush-pull arrangement delivers high quality power: 90 watts x 2 into 8 ohms
Power amplifier stage features instrumentation amplifier configuration for balanced signal transmission
Logic-control relays for shortest signal paths
Strong power supply with massive high-efficiency transformer and large filtering capacitors
MAIN IN button allows separate use of preamplifier and power amplifier sections
Numeric indication of volume level
Sale price £3,350
Audiomica Cainit Dual AES / EBU Cables for dCS (ex Demonstration)
dCS Vivaldi / Scarlatti / Paganini players now support advanced dual AES connection. This results in seriously better sound quality. This pair of cables from Audiomica produce stunning sound quality when used in a dual AES role. For single AES applications, contact us about other cable options.
Current price £870 sale price £499 – save an additional 10%