Accuphase A-75 Class A Power Amp (Used with warranty)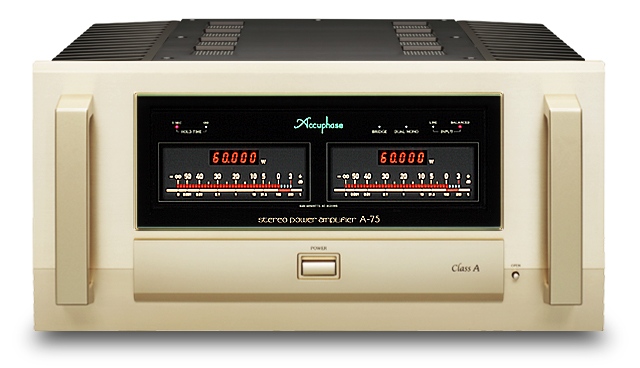 An Accuphase A-75 is arriving in the next few weeks, with 12 months warranty, this is currently Accuphase's top stereo class A power amplifier. Originally sold by ourselves, in as new condition, one previous owner.
"Instrumentation amplifier topology using discrete semiconductors realizes ideal gain allocation. Balanced Remote Sensing optimizes efficiency of negative feedback. 10-parallel push-pull configuration in power amplification stage. The overall result is outstanding S/N ratio and amazingly high damping factor. Furthermore, constant-voltage drive handles even drastic speaker impedance fluctuations with ease. Power MOS-FETs and other carefully selected components and materials make this Pure Class A Stereo Power Amplifier a sheer delight to experience.
Pure Class A stereo power amplifier with outstanding S/N ratio and very high damping factor
Rated for 60 watts into 8 ohms and 480 watts into 1 ohm
Power MOS-FETs in 10-parallel push-pull configuration
Instrumentation amplifier principle
All signal paths realized with discrete semiconductor components
Balanced Remote Sensing principle
MCS+ circuit topology
Current feedback amplification principle
Digital power value readout and bar graph voltage indication
Support for bi-amping and bridged mode"
New Price £18,000 Sold
Accuphase DP-410 CD Player / DAC with warranty (Used)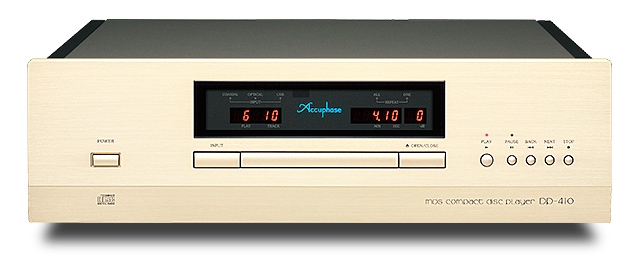 An Accuphase DP-410 is now available, with 6 months warranty. Originally sold by ourselves, one previous owner, who replaced it with the latest model from Accuphase.
"The Accuphase-developed CD drive in the DP-410 features an extremely rigid and ultra precise transport mechanism that attains new levels of performance. The low center of gravity and the quiet and smooth loading mechanism also contribute to the quality of signal reproduction.
The processor section features sophisticated circuit design and the latest digital technology. The MDS++ D/A approach developed by Accuphase has been further refined here, with four strictly selected high-performance delta-sigma devices operating in parallel, forming a conversion system of outstanding accuracy.
The outstanding sound and high performance of the D/A converter section can be accessed also by external equipment. Three types of digital inputs (USB, coaxial, and optical) accept digital signals from other components, for processing with the highest musical accuracy.
High-precision CD drive
High-quality CD tray and ultra quiet and smooth loading mechanism
MDS++ D/A converter with four circuits driven in parallel
Digital interface with USB input
Numeric indication of sampling frequency"
Originally £5,000 Sale price £2,499 with 6 months warranty
Naim Flash Sale
Follow the link for ex dem goodies:
https://mailchi.mp/c29e4267c579/naim-flash-sale-the-audio-works?e=d3d7766ff7
Accuphase C-2850 Control Amplifier (used)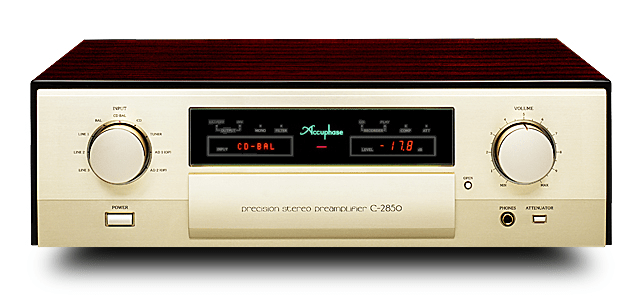 Used Accuphase C-2850 originally supplied by ourselves.
Top of the tree preamp from Accuphase.
"C-2800 series renewal creates the ultimate preamplifier — C-2850. A new preamp generation defined by the harmony of craftsmanship and technology. The revolutionary AAVA (Accuphase Analog Vari-gain Amplifier) principle which enables optimal volume adjustment has been further refined, for ultra-low noise and utterly quiet operation, combined with perfect operation feel. Experience the ultimate in volume control performance and comfort from a component that is in a class of its own. Sophisticated technology and optimized construction using only carefully selected top-notch parts and materials provide effortless operation stability, with ample performance leeway that is the secret behind ultimate reliability. Each single C-2850 is lovingly built by highly experienced craftspersons skilled in the art. The result is a product destined to transport the listener into the enchanting realm of high-end audio.
AAVA volume control for high performance and outstanding sound
Separate high-efficiency toroidal power transformers for left and right channels
Selectable preamp gain
Fully modular construction with separate left/right units for each amplifier stage
Logic-controlled relays for shortest signal paths
Independent phase selection for each input position
Printed circuit boards made from glass cloth fluorocarbon resin
Optional playback capability for analog records
Massive wood cabinet with natural grain finish"
Originally £21,000 Sale price £10,500 with 6 months warranty
Spectral 30SL Preamplifier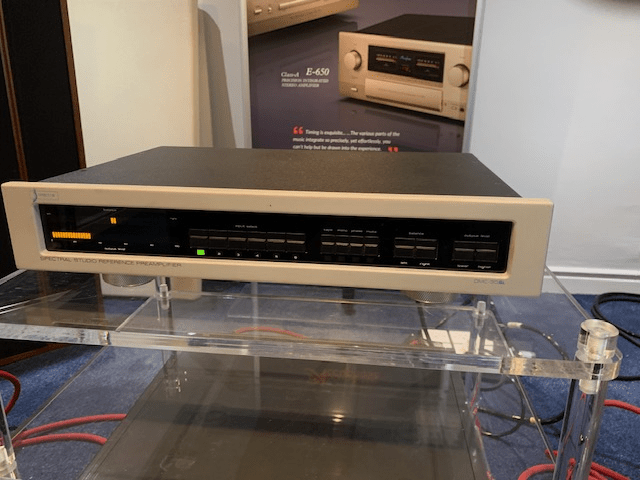 Rare opportunity top purchase a Spectral DMC-30SL "Studio Reference" preamplifier in very good condition. UK model, sold originally by ourselves.
Boxed. Complete with remote control
Sale Price £4,500
Speaker Clearance
The we have too many speakers on demonstration spring sale:
All are ex demonstration, boxed in excellent condition unless noted…..
Fyne Audio F502SP – Black Gloss list price £4,799 sale price £2,998 SOLD
Fyne Audio F1-5 Gloss Walnut list price £3,999 sale price £2,999
Fyne Audio F702 – walnut gloss list price £8,999 sale price £5,500
Focal Kanta No 2 – Dark Grey / walnut list price £7,500 sale price £4,500 (imperfect)
Call us for more offers.
Accuphase DP-400 CD Player (used boxed)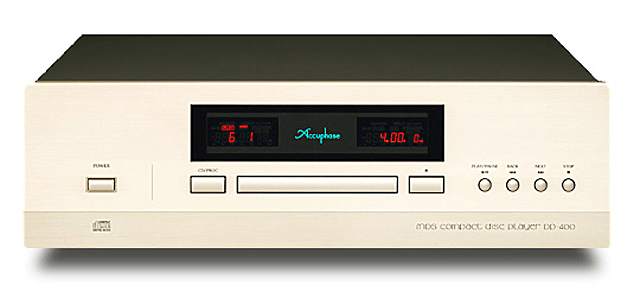 We have a used (one owner ) very good condition Accuphase DP-400.
Dedicated CD Player with high-precision drive — High-quality disc tray made from extruded aluminum, combined with ultra quiet and smooth loading mechanism. Processor section features further refi ned MDS++ type D/A converters. Fully separate transport and processor section, with coaxial and optical transport outputs and digital inputs, allowing easy insertion of DG-48 into signal path for sound fi eld correction in the digital domain.
High-precision CD drive, high-quality CD tray, and ultra quiet and smooth loading mechanism
MDS++ D/A converters and low-pass "Direct Balanced Filter" with totally separate balanced and unbalanced signal paths
Two sets of transport outputs and digital inputs allow insertion of DG-48 into signal path for sound field correction
Balanced and unbalanced analog outputs
Sold
Rega Elex R (new boxed)
Rega Elex-R (New / Boxed)
Audiomica Cainit Dual AES / EBU Cables for dCS (ex Demonstration)
dCS Vivaldi / Scarlatti / Paganini players now support advanced dual AES connection. This results in seriously better sound quality. This pair of cables from Audiomica produce stunning sound quality when used in a dual AES role. For single AES applications, contact us about other cable options.
Current price £870 sale price £499 – save an additional 10%