Auralic Aries G2.1 (ex demonstration, with warranty)

The latest version of the Auralic Aries streaming transport. Very little use, in immaculate condition, fully boxed.
The flexibility to connect to everything, the intelligence to control your world of music with a touch, and the power to deliver a signal of incomparable fidelity. The ARIES G2.1 Wireless Streaming Transporter stands out as the most advanced, high-performance method for bringing truly cutting-edge streaming to your audio system that we've developed. Whether your music resides on your network, a USB drive, on streaming services like TIDAL and Qobuz, or Internet Radio, the ARIES G2.1 provides endless options to explore your universe of music from our Lightning DS control app and take advantage of features like On-Device Playlists, Memory Caching, Gapless Playback, and Bit-Perfect Multi-Room functionality. With a supercharged Tesla G2 hardware platform, the ARIES G2.1 has the power to build a pure, bit-perfect stream for music formats up to 32bit/384khz PCM and DSD512 over Wi-Fi for truly exceptional sonic satisfaction. On its own or matched with other G-Series devices, the ARIES G2.1 redefines audio performance from a digital source.
New price £4,199 Sale price £3,350
Naim NAC 282 Pre Amp (ex demonstration)

Excellent condition with remote, box, manual etc.
Ex demonstration Naim NAC 282 preamplifier.
New price £4,999 Sale price £3,750
Accuphase E-270 Integrated Amplifier (Used)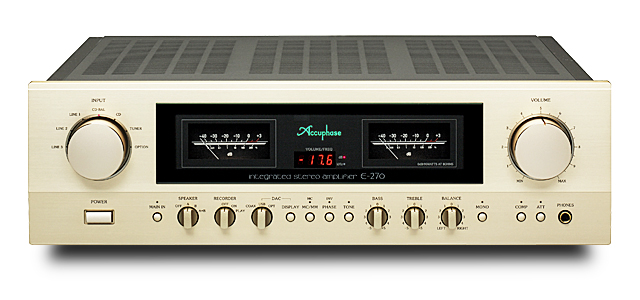 We have another E-270 trade in.
Less than 4 years old, boxed in immaculate condition, with 6 months warranty.
Revolutionary AAVA volume control. A power amplifier section featuring high power transistors in parallel push-pull configuration, complemented by a robust power supply and low impedance output stage. 120 watts of quality power into 4 ohms, with a damping factor of 400. Current feedback amplifier topology assures excellent phase characteristics in the high range, and instrumentation amplifier principle enables fully balanced signal paths. Power MOS-FET switches in the protection circuitry eliminate the need for mechanical contacts.
Pursuit of performance and sound quality results in capability well beyond its class, approaching the level of separate type amplifiers.
Revolutionary AAVA volume control
Output stage with high-power transistors in parallelpush-pull arrangement delivers high quality power: 90 watts x 2 into 8 ohms
Power amplifier stage features instrumentation amplifier configuration for balanced signal transmission
Logic-control relays for shortest signal paths
Strong power supply with massive high-efficiency transformer and large filtering capacitors
MAIN IN button allows separate use of preamplifier and power amplifier sections
Numeric indication of volume level
Sale price £3,350
Audiomica Cainit Dual AES / EBU Cables for dCS (ex Demonstration)
dCS Vivaldi / Scarlatti / Paganini players now support advanced dual AES connection. This results in seriously better sound quality. This pair of cables from Audiomica produce stunning sound quality when used in a dual AES role. For single AES applications, contact us about other cable options.
Current price £870 sale price £499 – save an additional 10%
Accuphase A-36 Class A Power Amplifier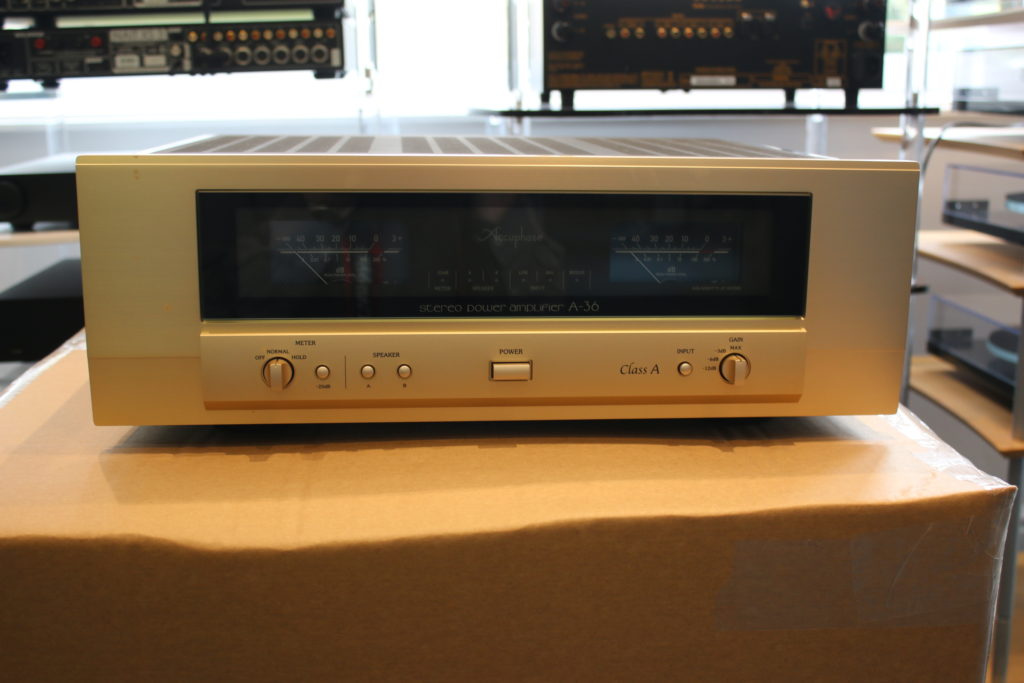 Used. One very careful owner. 6 months warranty.
The A-36 inherits many of the outstanding design technology features developed for the higher-end models. It redefines the baseline for pure class A power amplifiers and represents the same unwavering attention to detail and dedication to sound quality for which Accuphase is justly famous.
In the output stage, power MOS-FETs renowned for their excellent frequency response, sonic performance, and superior reliability are used in a triple parallel configuration and driven in pure class A. This is sustained by the strong power supply featuring a massive transformer and two large 47,000μF filtering capacitors. Output power in each channel is rated for an impressive 150 watts into 1 ohm, 120 watts into 2 ohms, 60 watts into 4 ohms, and 30 watts into 8 ohms. Even speakers with ultralow impedance or drastic fluctuations in impedance curve can be driven reliably by this impressive amplifier.
In the output circuitry, MOS-FET switches are used in place of relays, to eliminate mechanical contacts and improve long-term reliability.
Pure Class A operation delivers quality power: 30 watts x 2 into 8 ohms
Power MOSFET output stage features 3-parallel push-pull configuration
Instrumentation amplifier principle used in input stage
Amplification stage implements further evolved MCS+ topology
Current feedback principle combines stable operation with outstanding sound quality
Bridged connection mode allows upgrading to monophonic amplifier
Strong power supply with massive high-efficiency transformer and large filtering capacitors
4-stage gain control
Sale Price £3,750