We have just added some new Melco products on permanent demonstration.
Melco N100

The N100 compact network bridge / library with 2TB storage. Add a USB DAC / amplifier to bring streaming services and your own high quality library of music to your system. https://www.melco-audio.com/products/n100/
NEW: Melco S100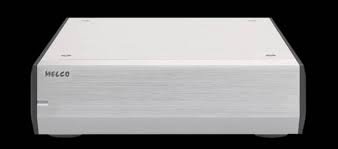 As one of the severist critics of streaming sound quality, we are ready to admit that streaming is now capable of very high levels of performance. Our mantra: All bits are not created equal – is echoed in this new Melco product. The S100 is a network switch diminishing network noise, and raising the potential for streaming replay – as Melco say:
Digital Music relies on perfectly timed data in a
low noise environment to achieve maximum performance.
The limitation to the ultimate sound quality of digital music on an
Ethernet network is the network itself and the components used.