Do you want a compact system that will play recorded music / radio with high quality sound?
Do you want to play music wirelessly from your iPhone / iPod?
Do you want great TV sound?
Do you want all this for less than £600 (£399 if you already own a pair of speakers!)?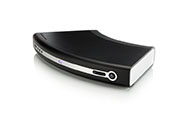 The new Airstream A100 amplifier from Monitor Audio, coupled with a pair of compact quality speakers will do all of the above, and much more. WiFi connected, and Apple AirPlay compatible, the A100 will play your stored music, plus internet radio (thousands of stations including BBC). If you connect it to your TV (digitally or through analogue connections) you will instantly enhance the quality of your TV sound.
Come in and have a listen – it's the only other system that you will need.